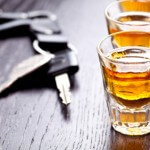 While there are many forms of driver negligence that can cause a serious motor vehicle accident, certain types of risky driving behavior are particularly dangerous. Sadly, the most dangerous forms of unsafe driving are also among the most common. Drivers frequently speed while under the influence of alcohol, which is a particularly deadly combination.
Because a handful of negligent drivers who mix speed and alcohol impairment cause a disproportionate number of collisions involving cars, pickups, SUVs, tractor-trailers, motorcycles, bicycles and pedestrians, we have provided an overview of the dynamics of the interaction between these two critical accident factors:
Impact of excessive speed on car accidents
Excessive speed is a two-pronged danger to others on the roadway because it increases both the number of accidents and their severity. When a driver fails to obey the speed limit, the driver has less time to stop, navigate curves or swerve to avoid stopped traffic or other potential road obstructions. Speed essentially inhibits a driver's ability to react to emergencies by reducing the allowable reaction time to avoid a crash.
The National Highway Traffic Safety Administration (NHTSA) estimates that speeding drivers cause or contribute to 30 percent of all fatal motor vehicle crashes. These speed-related accidents claim an enormous toll in human life, devastating injuries and financial loss. Auto collisions where speed is a factor claim the lives of over 13, 000 per year and over $40 billion annually or $1,281 per second.
High rates of speed also correlate directly with more devastating car crashes that cause debilitating injuries and wrongful deaths. A study by the Insurance Institute for Highway Safety (IIHS) found that when the speed limit has been increased the number of fatal accidents also has risen and that the converse is also true. When states raised speed limits from 55-75 mph on rural interstates, the car accident fatality rate increased by 38 percent. In states that raised the speed limit to 70 mph, the fatality rated increased by 35 percent.
The deadly alcohol-speed combination
Alcohol use is often a factor in speed-related fatal car accidents. Intoxicated drivers tend to speed because they may have impaired judgment and falsely inflated estimates of their own driving ability. Accident data reported by the NHTSA reveals that 40 percent of intoxicated drivers involved in fatal crashes also exceed the speed limit whereas only15 percent of drivers in fatal accidents that have not consumed alcohol exceed the speed limit.
When a car accident occurs that results in significant injuries to you or a family member or the tragic death of someone you love, our experienced Kentucky car accident lawyers at Goeing and Goeing, PLLC are committed on assisting clients in obtaining the financial compensation they need to rebuild their lives.