Car Accident Attorneys in Lexington, KY
Goeing Goeing & McQuinn PLLC are Trusted Lexington Auto Accident Attorneys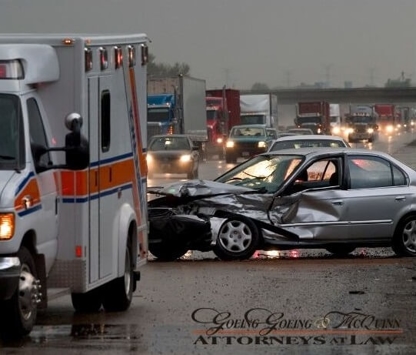 If you've been involved in a serious car accident, you are probably facing enormous challenges, such as pain from injuries, inability to work, financial hardships, intense stress, and long-term psychological harm. On top of all this, insurance adjusters may begin to call you to try and settle your claim. Make no mistake! Insurance adjusters are NOT concerned about your well-being. Their job is to entice you into admitting damaging facts that will lessen your recovery for your car accident injury claim.
At Goeing Goeing & McQuinn PLLC, our experienced team of car accident lawyers in Lexington have a proven track record of successfully advocating for clients who suffer injuries in car accidents.
Kentucky Statute of Limitations for Filing a Car Accident Claim
Kentucky, like almost every other state, has a deadline for filing a lawsuit against another individual or corporation called the "statute of limitations." The statute of limitations sets a deadline for filing a personal injury lawsuit in the state civil court system. Typically, in most cases, the deadline is one year after the accident occurred.
If you fail to file your lawsuit within the statute of limitations, then you are barred from ever bringing a civil claim against the one who caused you injury.
In automobile accident cases the statute of limitations can be longer. In cases in which PIP payments were made on behalf of the injured party, the statute of limitations may be extended for two years after the last PIP payment. However, some claims such as loss of consortium are not extended. Therefore, it is important to consult with an experienced car accident attorney in Lexington, KY as quickly as possible following an accident.
Kentucky Negligence Law in Car Accident Claims
Kentucky is a "comparative fault" state. The individual you plan on filing a lawsuit against may bring a defense that claims you were partially or completely negligent and at fault for the injuries you have suffered, and that you should not receive any damages. Comparative negligence is a partial legal defense which can reduce the amount of damages you may be able to receive based upon the degree of your own negligence which contributed to the accident.
For example, if you are found by the jury to be 20% responsible for the accident and the defendant is 80% at fault, the court would reduce your total damages by the amount equal to your 20% responsibility for the accident. This law requires courts to take into consideration the plaintiff's negligent behavior when he or she was using the vehicle, therefore it is important to be prepared to argue against this defense in your lawsuit.
Kentucky is also a "no-fault" state when it comes to automobile insurance. Regardless of who is at fault in the accident, the insured injured plaintiff is compensated for his or her losses from his or her own insurance company. In order to be able to file a civil lawsuit against the individual who caused the accident, you must have exceeded your personal injury protection benefits and suffered a serious injury. Serious injuries include but are not limited to permanent disfigurement and loss of bodily functions.
Common Causes of Car Accidents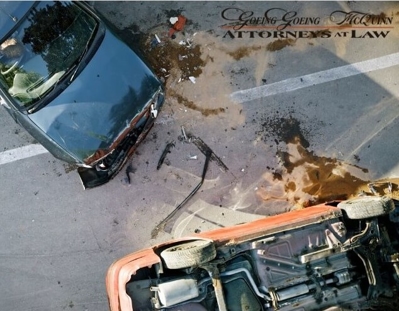 Every auto accident is unique, which is why we place an emphasis on personally investigating cases and determining what happened in your crash. By collecting information directly from our clients, reviewing police reports, reconstructing accidents, and carefully investigating the facts and circumstances at hand, we explore all potential causes of a crash to determine who can be held at fault.
Because we have handled many car accident cases for residents throughout Kentucky over the years, we know the common causes of traffic wrecks and what we need to look for. For example, many auto accidents are caused by the following factors:
Distracted driving – Distracted driving has become one of the most concerning forms of negligence on American roadways, and according to the National Highway Traffic Safety Administration (NHTSA), it is nationwide epidemic fueling an alarming surge in roadway injuries and deaths. Distracted driving can take many forms (eating and drinking, talking to passengers, adjusting music, etc.), all of which are dangerous. However, the most dangerous form of driver distraction is texting or using a cell phone behind the wheel. This is due to the fact that motorists who use a phone to text or place a call must divert their manual, mental, and visual attention away from the road, which substantially increases the risk of crashing. Not only is texting a clear exhibition of negligence, but it is also against the law for all drivers in the state of Kentucky. Our legal team fully explores whether an at-fault driver was distracted at the time of a crash.
Drunk or drugged driving – Getting behind the wheel while intoxicated by alcohol or drugs is against the law. It is also one of the most blatant forms of negligence and among the most dangerous things a person can do because it puts themselves and others at risk of suffering serious harm. Exploring whether a motorist was impaired is critical to ensuring that they are held accountable for their negligence and liable for victims' damages. Although impairment may be difficult to prove if a motorist was not arrested or charged by law enforcement, these cases can be effectively handled by skilled attorneys.
Driver error – Driver error is the leading cause of car accidents, and it can take many forms. From speeding and unsafe lane changes to running red lights, failing to yield, and following too closely, there are many types of errors drivers can make behind the wheel that increase the risks of accidents. We explore all of these potential causes and carefully review police reports to determine if witnesses may have seen traffic violations or if drivers were cited by law enforcement for disobeying traffic laws. In some cases, we may be able to secure evidence, such as closed-circuit video recordings from nearby businesses, which enable us to see if a driver committed some act negligence that caused or contributed to a crash. We then work to present evidence clearly and convincingly to ensure clients receive fair compensation.
Defective products – Although driver error is the most common cause of auto accidents, there are crashes that are not caused by the fault of any motorists. Instead, some wrecks may be caused by dangerous auto parts or products that are unsafe for their intended use. These include faulty tires, airbags, brakes, and other vehicle components. When a product is defectively designed or manufactured, or when manufacturers fail to warn consumers about potential risks associated with their products, they can be held liable for damages victims suffer as a result.
No matter the cause of your accident, you have the right to pursue a personal injury claim that holds an at-fault party accountable for their negligence and liable for the injuries and damages you suffered. While you may have this right, compensation is never guaranteed, especially when insurance companies do everything they can to pay you little to nothing. To level the playing field, it is in your best interests to have proven personal injury lawyers on your side of the courtroom.
Frequently Asked Question About Auto Accident Claims
How Do You Know You Need a Car Accident Attorney?
Even in minor accidents, it is always best to seek guidance from a trusted attorney. Even if you plan to avoid a lawsuit, seeking compensation only from your insurance company, an experienced lawyer can be invaluable. Insurance companies are not on your side, despite how it may appear. A lawyer, on the other hand, is hired specifically to protect your best interests and will be there to offer legal guidance every step of the way. If you wish to seek fair, total compensation for your accident, a lawyer can help you go about filing your insurance claim in the best way.
If you were in a more complex crash where the driver was uninsured, or you suffered significant injuries, an attorney is definitely necessary. A car accident lawyer will help you file insurance claims, investigate the circumstances of your crash, and address your legal concerns.
When Should You Contact Your Insurance Company?
Yes—you should report the accident to your insurance company as soon as you are able to do so. Most insurers have rules about how long policyholders are allowed to wait before reporting the accident if they wish to obtain coverage. Cooperate as best you can, but try not to explicitly say who caused the accident, stick to straight-forward facts instead. Before making further statements, you should discuss your options with your car accident attorney.
What Should You Do If the Accident Was Your Fault?
Even if it seems like the accident was caused by something you did or did not do, there could have been other factors at play that you weren't aware of. Avoid telling anyone that the accident was your fault because you really can't know for sure whether it was or not. Do not apologize to the other parties involved in the accident, as it can look incriminating, instead ask if they are alright and see if they need medical attention.
What Can You Be Compensated For After an Accident?
In an accident, you have a right to seek compensation for medical expenses, physical damages, lost wages, and pain and suffering. While you may need to pay some costs upfront, especially medical bills, you should be reimbursed by either your insurance company, the other driver's insurance company, and/or the party responsible for your injury. The amount you are compensated and the source of compensation depends on whether or not you file a lawsuit or only seek compensation through insurance claims. Insurance companies won't usually compensate you for all expenses, so if your damages weren't covered, a lawsuit might be the next best option.
You Weren't Injured in the Accident - Do You Still Need to See a Doctor?
Even if you don't think you are injured, you should always see a doctor after an accident. The adrenaline that circulates through our bodies in an emergency situation can sometimes mask any pains or symptoms of harm, so seeing a medical professional to evaluate your health is always a good idea following any dangerous situation. Make sure you keep a copy of the documents from your visit, as well as any notes from your doctor addressing your injuries.
Who Can Be Held Liable for an Accident?
Depending on the circumstances of your crash, there are a number of people or companies who could be liable for the incident. It could be the fault of the other driver, or if a vehicle malfunction caused the accident the manufacturer might be responsible. If poorly maintained roads or construction site hazards caused the accident, those respective companies could be at fault. The circumstances are always different, and no two accidents are exactly the same, which is why it is always best to discuss your situation with an experienced lawyer.
Steps to Take After a Car Accident
If you are you are involved in an automobile accident, the very first thing that you must do no matter how minor the accident seems is to stop your vehicle and remain at the accident scene. Next, call for help. You and the other passengers in your vehicle may appear to be unharmed, but people in other vehicles could be injured. It is also possible that one or more of the vehicles involved in the accident has been damaged in such a way that it could catch fire or leak flammable fluids onto the roadway.
Take these safety precautions after you have called for help:
Move vehicles off the road and onto the shoulder (if possible)
Alert other drivers to the accident with flares or reflective triangles
Stay on the side of the road or a safe place until emergency responders arrive
It is important to report any and all accidents to your insurance company so that you can be compensated for any damages that resulted from the accident, including those that may not be immediately apparent, like an internal injury or vehicle damage which appears minor but will actually cost a lot of money to fix.
To report the accident, you will need information from other drivers. Be careful not to talk about the accident, as anything that you say could be used against you later on.
After an accident, obtain the following information:
All of the drivers' names, addresses, and vehicle registration numbers
Pictures of the accident scene
Names and telephone numbers of witnesses
Perhaps even more importantly, get yourself checked out by a doctor, even if you feel as though you are not injured. Some injuries, including severe injuries like head injuries or internal injuries, may not produce immediately noticeable symptoms. If you tell your doctor that you were involved in a car accident, they can examine you for signs of injury and begin treatment right away if you are hurt.
Additionally, you should call an experienced car accident lawyer in your area. Having a lawyer by your side can lift the burden of managing negotiations with insurance companies off your shoulders so that you can focus on your recovery. In addition, your personal injury lawyer will be able to investigate all aspects of your accident and injury, such as physical evidence and eye-witness testimony, in order to protect your claim and maximize your compensation.
Goeing Goeing & McQuinn PLLC has over 40 years of combined experience to put towards your case. Our track record of recovering millions of dollars on behalf of our clients means you can trust us to fight for the best possible outcome to your case.
Call a Goeing, Goeing & McQuinn for a Free Consultation!
At Goeing Goeing & McQuinn PLLC, we have the legal experience and litigation resources to successfully handle any type of car accident against even the most aggressive and largest insurance companies. We understand the physical, mental, and financial harm you and your family are suffering and want to provide the financial foundation to help you reclaim your health and life.
Recommended Reading