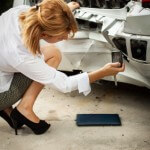 Many people know that black box data recorders, which are also known as "event data recorders" (EDRs), play a critical role in reconstructing a commercial airline crash to determine the cause of the tragedy. Far fewer people realize that this technology also provides a vital resource in litigation of trucking accidents. These black boxes are electronic data recorders that store information about driving behavior, hours of service and vehicle maintenance that can provide invaluable evidence to trucking accident victims.
A new proposal by the National Highway Traffic Safety Administration (NHTSA) has now advanced a proposal to make installation of EDRs in all new vehicles. The decision to equip all new cars, trucks, SUVs and other passenger vehicles with data recorders can be a promising resource if you are injured in a car accident. Black boxes can provide law enforcement authorities and accident reconstruction experts with essential information to dissect the causes of car accidents.
Use of EDRs in auto accident lawsuits can provide evidence of driver error and vehicle defects
This proposal could prove vital to personal injury victims injured in collisions involving negligent drivers because it can furnish evidence on the issues of fault as well as the connection between a collision and the cause of specific injuries. There are a handful of situations where the issue of liability is fairly clear like when you are rear-ended while you are waiting at a red light, but this type of situation is the exception.
Many times both drivers and witnesses may see the accident differently so black boxes can provide valuable additional evidence. Even when fault appears clear, such as when the other driver runs a stop sign, the data stored in an EDR may combat claims that your driving behavior also contributed to the car accident. Current models of EDRs on the market store driving data including braking, speed and seat belt use. The proposal would also provide critical evidence regarding vehicle malfunctions that might be attributable to vehicle defects or errors by drivers in responding to such defects. In addition to its evidentiary value in a personal injury case, this information may result in safer vehicles.
Vehicle data recorders may promote settlement of car accident litigation
Black boxes may also reduce litigation costs and encourage settlements in Kentucky car accident cases. Because there will be objective data regarding driving behavior, such as whether a driver applied the brakes, insurance carriers and at-fault drivers should be discouraged from lying or distorting evidence. This additional evidence will promote settlement in car accident personal injury cases.
While universal use of EDRs might ease an injury victim's burden in car accident litigation, experienced Kentucky auto accident lawyers at Goeing and Goeing, PLLC conduct careful investigations, which may include the use of crash reconstruction experts to develop a compelling legal claim for our clients. We are committed to providing aggressive representation to those who suffer severe injury so talk to our Kentucky personal injury attorneys or contact us at www.kylawpractice.com.