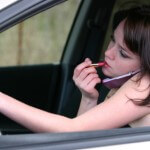 While there has been extensive media coverage of the dangers of auto accidents caused by cell phones while driving, inattentive drivers were one of the most common causes of car accidents long before mobile phones became popular. When drivers divert their concentration, hands and eyes from the road for any other task, there is a serious risk of a traffic accident that may cause permanent injury or wrongful death.
There are many traditional forms of driver inattention
While portable electronic devices like cell phones receive the bulk of attention from federal regulators, driving distractions come in many other forms, such as:
Carrying on a conversation with passengers
Adjusting the car stereo or portable DVD player
Gawking at traffic accidents or disabled vehicles
Children or pets that are not properly restrained
Reading a newspaper or book
Disciplining children
Applying makeup, brushing hair or other forms of grooming
Reaching for objects in the passenger compartment
Eating food or drinking beverages
Facets of sensory distractions when driving
While "high-tech" distracted driving receives the majority of the attention, drivers attempting to multi-task behind the wheel are still one of the most prevalent causes of motor vehicle accident-related injuries or fatalities. Distracted driving actually involves three separate forms of driver impairment including:
Cognitive Distraction: This form of distraction involves a failure to focus one's concentration entirely on driving. Safe driving requires a wide range of intellectual processes, including judgment, perception, decision-making, problem solving and more.
Visual Distraction: When drivers divert their eyes from the road or fail to scan spaces adjacent to their vehicle, collisions frequently occur. At freeway speeds, a vehicle may travel the length of a football field when the driver's eyes are averted for even a few seconds.
Manual Distractions: Drivers that take their hands off the steering wheel to adjust the car sound system or GPS device may be lose control of the vehicle so that it swerves into an adjacent lane or runs off the road.
The enormous danger posed by distracted driving recently motivated the National Transportation Safety Board (NTSB) to propose a universal ban on any non-emergency use of portable electronic devices (like mobile phones) while operating a motor vehicle. While it is too early to know whether this global ban will be imposed, it could significantly reduce driver negligence in the form of cell phone use, but traditional driving distractions will continue to pose a problem.
Our experienced Kentucky personal injury lawyers at Goeing and Goeing, PLLC recognize the devastating impact of suffering catastrophic injuries like paralysis, traumatic brain injuries, amputation of limbs and other serious medical conditions.