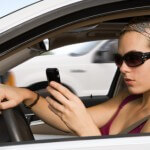 Despite Kentucky laws designed to prevent use of cell phones when driving, distracted driving remains one of the leading causes of Kentucky car accidents. An astounding 80 percent of auto accidents and 65 percent of near miss collisions involve driver distraction annually according to the National Highway Traffic Safety Administration (NHTSA). The situation is equally grim in Kentucky where 53,000 car accidents were caused by distracted drivers during 2011, which resulted in 15,000 injuries and over 170 fatalities.
Limited effectiveness of Kentucky's anti-texting while driving law
Police in Kentucky began issuing tickets for texting and driving on January 1, 2011. During the first six months, law enforcement issued 150 citations for violation of Kentucky's texting law designed to prevent distracted driving accidents. The anti-texting legislation prohibits all use of personal communication devices by those under 18 and text messaging by all drivers regardless of age. Nonetheless, distracted driving continues to cause devastating injuries and wrongful death to many Kentucky drivers, passengers, motorcyclists, bicyclists and passengers.
The limited effectiveness of Kentucky's bans on text messaging and voice calling when driving can be linked to several factors:
Enforcement Challenges: Adults can still use a cell phone to make and receive mobile calls or for GPS functions, which can make it difficult for law enforcement to determine whether a driver is using their cell phone for a prohibited purpose.
Fine Limitations: The fines levied for texting while driving are relatively modest - $25 for a first offense or $50 for a second offense plus court costs. The effectiveness of a law prohibiting behavior generally is a function of two factors: (1) likelihood of being caught; (2) severity of the penalty. The relatively nominal penalty for texting while driving combined with a low probability of being issued a traffic ticket undermines the effectiveness of the text messaging ban.
Drivers using cell phones exhibit impaired driving comparable to drunk drivers
While many presume that they can still safely drive a vehicle while texting or talking on a cell phone, there is a substantial amount of evidence that using a cell phone while driving may increase one's risk of being involved in a collision as much as or more than driving while intoxicated. One test of this theory was reported on theCNBC.COM website by Car and Driver editor Eddie Alterman. The test showed that a legally drunk driver needed four additional feet of stopping distance, but a driver reading a text needed 36 additional feet while a driver composing a text required 70 additional feet. Although texting and driving is particularly unsafe, research from the University of Utah found talking on a cell phone impaired driving ability as much as having a .08 percent BAC.
If you suffer a serious injury or a loved one dies in a fatal car accident, our experienced Kentucky distracted driving attorneys at Goeing and Goeing, PLLC offer a free consultation so that we can evaluate your claim. Kentucky car accident claims are subject to strict timing limitation for initiating a legal claim so you should not delay in contacting us, or you should feel free to visit our website at www.kylawpractice.com.