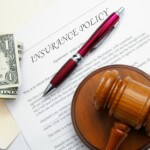 Kentucky saw 127,524 car accidents in 2011, killing 282 people and leaving 2,088 with incapacitating injuries. Those are statistics that touch all of us. Suffering even the most minor car accident can not only be scary but confusing. The aftermath of having to sort out all of the details can be the most frustrating part of recovering from an accident - that aftermath always includes dealing with an insurance company, a claim and an adjuster. As a victim of an auto accident you may be faced with many costs; hospital bills, auto repairs, rental car and possibly even lost wages. It is important that you understand all your options when trying to make the most of this bad situation.
Insurance companies are always eager to get accident cases settled quickly, but we advise that you take your time. When you are contacted by an insurance company they immediately want to send an adjuster not only to check out the damages, but to have you sign a release form - that may take away your right to pursue any compensation for personal injuries or other expenses incurred as a result of the accident. Although the insurance company may make you an offer that will cover the basics - repair or replace your car - the full impact of a car accident is often indirect and unknown for months and potentially not known for even more than a year after the accident. When you are faced with medical expenses including hospital bills, long-term recovery and other financial hardships, you may be tempted to try to put the paperwork behind you by signing the first offer your or the other drivers' insurance has sent you. However, convincing you to sign an insurance waiver or release form without consulting an attorney is a sure way for the insurance company to minimize their pay out, and for you to be left with potentially major expenses down the road.
Before signing a release, or even talking to the insurance company, you should consult with an attorney to make sure you understand the process and everything you may be entitled to as a result of your car accident. Potentially even more important is to make sure you understand what you are giving up if you decide to sign a release or settlement from an insurance company. In some cases the offers from an insurance company may be a good deal for the injured. Certainly, not every car accident requires a law suit and the easiest and simplest way to determine if you are making the right decision is to take advantage of a free consultation and let an attorney explain the negatives and positives as well as what options are available to you.
Should you decide to seek a free consultation at our office we will give you as much information as you we can at your free consultation and let you decide whether you need to retain our office or not. If your decision is to retain our office, we certainly will pursue all reasonable outcomes on your behalf but should the insurance company be unreasonable in their negotiations and a lawsuit becomes necessary. At Goeing and Goeing, we have a proven track record of successfully advocating in the court system for our clients to maximize their recovery. We understand catastrophic injuries, damages and the enormous challenges of overcoming pain, disability and the hardships that can accompany a serious auto accident. Make no mistake, insurance companies are not concerned about your well-being. We are. Call Goeing and Goeing today, and let us help you recover what is rightfully yours.