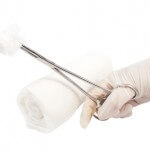 A common type of medical malpractice involves items left inside a patients body following a surgery. Many times, items like sponges, gauze, clamps, scalpels and even scissors are forgotten or become hidden out of view when the surgery is complete and the incisions are closed.
The medical term "Retained Surgical Items" is often used to describe these misplaced byproducts of the surgery. A patient rarely realizes the items have been left inside them until some complication arises. Frequently, an infection will develop and the item will actually become infused with parts of the body. Severe consequences for the patient result.
There are an estimated 4000 cases of retained surgical items each year in the United States. It is shocking that today's technology is not utilized in order to prevent such occurrences. Even with the urging of the Association of Operating Room Nurses and the American College of Surgeons, hospitals have resisted usage of technologies such as that developed by RF Assure. RF Assure has developed a system using radio frequency tracking that would account for all items used during surgery and would only add approximately 10 dollars to the cost of a procedure. This would seem to be a small price to pay for assurance that no items were left inside a patient following a surgery.
If you or a loved on has suffered injury because an item was not removed following a surgery, contact one of our medical malpractice attorneys so that we may evaluate your case.