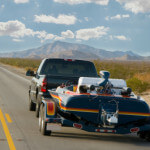 Often for recreational purposes, many Kentucky drivers tow trailers behind their cars, trucks, or SUV's, especially during the summer months. Specifically, there are a number of different types of trailers that are common on Kentucky highways, such as utility trailers for hauling lawn maintenance equipment, horse/livestock trailers, boat trailers, and those that haul campers. While trailers can be extremely useful, they can also be highly dangerous if not properly secured and operated. That is why drivers who pull trailers behind their vehicles must take extra precautions before, during, and after they reach their final destination in order to ensure their safety and the safety of everyone else with whom they share the road. With this in mind, the following are some trailer safety tips that you should consider:
Regardless of what type of trailer you tow behind your vehicle, you must thoroughly inspect it before each trip to make sure that it is properly connected to the vehicle that will be pulling it, and to ensure that it is in good working order.
Always properly secure a trailer to your vehicle using both a hitch and sturdy chains. Brake lights and turn signals must also be connected properly so that they can signal drivers should you need to brake or engage your turn signal.
Always make adjustments to the way you drive so that you pull your trailer safely. For example, it takes longer to stop a vehicle pulling a trailer - maneuvers like changing lanes, backing up, and cornering require extra caution and skill.
The contents of any trailer being pulled on a Kentucky highway should be securely fastened to the trailer so as to avoid any damage or accidents that could be caused if they were to come off of the trailer as it was being pulled down the highway.
Every trailer is designed to hold specific items, and can only safely contain the type of items for which it is designed, with a total weight that does not exceed the manufacturer's specified towing capacity. Accordingly, it is important that you are aware of the towing capacity of your vehicle to ensure that you do not exceed its weight limit.
Renting a trailer can be a convenient and economical way to move your belongings or go on a camping trip, but pulling a trailer behind a vehicle is a big responsibility and should not be undertaken without serious thought. If you do rent a trailer, take the time necessary to learn how to operate it safely, and practice maneuvering your vehicle with the trailer attached to it before you take it out onto the road.
If you or someone in your family has been injured as a result of an accident involving a car, truck, or SUV-pulling a trailer, the knowledgeable Kentucky injury lawyers at Goeing Goeing and McQuinn, PLLC can provide you with the aggressive and effective representation that you deserve. We understand that victims of motor vehicle accidents suffer both personally and financially, and we have a strong track record of success in obtaining the results that our clients need to rebuild their lives following devastating accidents. Don't wait another day to get the help that you need now. Call us to schedule your no obligation initial consultation at (888) 595-2943, or contact us through our website.