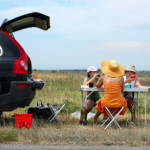 Road trips are a great way to travel with friends and family when the weather is warm and the days are long. The problem is that many other people have the same thought and the Kentucky roadways are more crowded than at any other time of year. In order to avoid accidents, a driver needs to be very cognizant of the other drivers on the road, the people in the car with you, and his or her own actions.
There are some basic safety tips to practice in order to avoid accidents and stay safe during the summer months:
In addition to a GPS device, maintain maps in the car - there will be times when you may not have cell or GPS service and being able to navigate to your destination using paper maps is an important alternative;
Keep extra windshield washer fluid in the car - have an unobstructed view of the road and surroundings is critical, so it is important to be able to refill washer fluid as necessary;
Keep an emergency kit in the car;
Maintain flares and a white flag - being able to notify other drivers to the fact that there is a disabled vehicle can prevent further damage or harm to individuals;
Stock a first aid kit (including basic medicines), flashlight, jumper cables, work gloves, water, paper towels, non-perishable food, and a jack (plus a ground mat);
Carry a repair kit, including some duct tape, which could be used to patch up hose leaks on a temporary basis;
Be certain that any child safety seats are properly installed and correctly utilized;
Ensure that all passengers who are twelve (12) years of age or younger ride in the back seat;
Never leave a child alone in the vehicle during the warm or hot summer months;
Perform a thorough review of tires, checking for tread wear and tear, pressure, and confirm the presence of a spare;
Check wiper blades, the air conditioning system, lights (internal and external), the cooling system, and all fluid levels before getting underway;
Make sure everyone in the vehicle wears his or her seatbelt;
Maintain focus on the road - do not eat or drink, use a cell phone, or otherwise engage in distracting behavior;
Do not drink or use any substances that may impair focus and reflexes (including taking certain allergy or cold medications).
In addition to all of the safety measures taken to prepare for your trip, during the trip itself, a driver should practice defensive driving. Being able to anticipate problems and react before they become a threat to the safety of the driver and passengers is critical. Basic safe driving techniques includes anticipating road events twelve (12) seconds ahead of the present moment, viewing potential hazards and situations that could develop and adjusting traveling speed to avoid the worst case scenario. When approaching blind intersections or areas of the roadway where other vehicles could have an obstructed view of oncoming traffic, a driver should drop his or her rate of speed in order to confirm that it is safe to proceed through the potentially dangerous exchange. A driver needs to be certain that they know of any potential threats, so merging, turning, or exiting should only be done if the line of sight is clear and unobstructed.
Taking precautions can ensure a fun and safe road trip, but if you or a loved one has been injured while driving, it is imperative to contact a knowledgeable personal injury attorney as soon as possible to protect your rights. Please let the experienced attorneys at Goeing Goeing and McQuinn PLLC inform you about your rights and discuss the facts of your situation. The schedule a free consultation, call us or complete an online contact form.