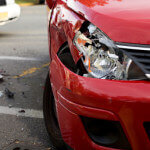 It is a given that a person is going to spend a good deal of time driving around parking lots. Usually, the trip to and from the grocery store, work, or the local sports arena is uneventful, but when there is an accident, things can become complicated quickly. Approximately twenty percent (20%) of automobile accidents occur in parking lots, so it is important to have some understanding of how you should proceed.
Kentucky does not have any specific laws that address liability in a parking lot accident. This is complicated by the fact that Kentucky has very specific insurance requirements, in essence requiring that drivers maintain no-fault and liability coverage, which would cover both personal injuries that results from the accident as well as damages to the vehicles involved in the incident. This means that an injured party will look to his or her personal policy for payment for medical expenses and pain and suffering first. Once the claim has exceeded the predetermined limit, otherwise known as a monetary threshold, then the injured party must go after the other driver through litigation.
Once an accident has happened, there are a number of things that should be done:
Stay calm. Losing your head at this time is not going to accomplish anything, nor will making any statements to the other driver about the accident being your fault, even if you are thinking this.
Contact the police immediately. It does not matter that the damage to the vehicles appears to be minimal, it is important to get a police report on file as this shifts liability from you personally to the insurance company. In addition, you want a contemporaneous account of the accident, which can be important evidence in any later legal proceeding.
Record the scene to the extent possible. In this day-and-age of smart phones, nearly everyone has a camera handy (in the "olden days," we would have recommended keeping a small camera in the glove box), so take pictures - lots of them. If you are too badly injured to do this, see if you can enlist the help of a witness or first responder. As soon as you are able to diagram the accident scene, you should do so.
Identify the witnesses. The police are not going to spend a lot of time and resources on a parking lot accident unless it is very serious, so you should try to gather the information from those present at the scene of the accident. If you do not get the contact information at that time, you likely will never get it.
Take note of the other driver's information personally. Do not rely on the police report to have all the necessary details. Collect contact information, insurance specifics, and information about the vehicle involved in the accident.
Write down your recollection of the accident as soon as possible. During the heightened awareness at the time of the accident, it all seems so clear, but these memories fade quickly. If you are not going to the hospital after the accident, sit down in the parking lot and take some notes on your phone or tablet, or even on a piece of paper.
Call your insurance company and report the accident. It is important to make the insurance carrier aware of the accident as soon as possible.
Parking lot accidents are common. There are vehicles circling for a spot, cars pulling into spots, people backing out of or driving through spots. Pedestrians are everywhere. The chaotic environment lends itself to vehicle collisions. If you have been involved in an accident in a parking lot, it is important to contact an experienced personal injury attorney to discuss your situation. Injuries are common in these types of accidents and you need to make sure that you have the resources for the best medical care possible. The experienced attorneys at Goeing Goeing and McQuinn PLLC can help you. Call us or feel free to contact us through our website to schedule a free consultation.