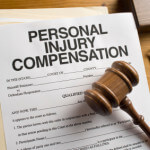 If you are involved in a motor vehicle accident while driving a car or riding a motorcycle or you are struck by the driver of a commercial truck, the insurance company for the other driver will immediately begin investigating potential defenses. Insurance companies rarely concede fault and never offer the full value of an accident claim without a fight. If you are involved in a Kentucky motor vehicle collision, you should have your personal injury attorney negotiate with the insurance company rather than attempt to handle the case on your own.
There are a wide range of defenses that insurance companies may employ to minimize their liability on your personal injury claim. Some of the most common defenses employed by insurance companies that you should be aware of include the following:
Statute of limitations: Every personal injury claim in Kentucky is governed by a statute of limitations. This timing requirement imposes a strict deadline within which you must initiate a lawsuit or be barred from seeking legal compensation. The statute of limitations is an absolute defense regardless of the merits of your case. It is imperative that you comply with this timing requirement because generally there are no exceptions to this rule despite the hardships that may result from barring an otherwise meritorious claim.
Lack of Fault: The insurance company may dispute the factual evidence supporting the proposition that their insured is at-fault. Many times the insurance company will employ accident reconstruction experts to explain why their client could not have caused the auto accident.
Severity or Causation of Injury: When liability is difficult to dispute, the insurance company may aggressively dispute whether the accident caused your injuries. The insurance company attorneys may contend that the injury was caused by a prior traumatic event or underlying medical condition. Alternatively, when a motor vehicle accident victim does not seek immediate medical attention, the insurance company may try to link your injuries to an event that occurred after the collision. Sometimes the insurance company will simply take the position that you are being disingenuous about the nature or severity of your injuries, which is why it is important not to delay your decision to see a doctor and obtain diagnostic testing and treatment.
Comparative Fault of the Injury Victim: Insurance companies conduct careful investigations and review law enforcement accident reports to develop theories that justify shifting fault back to the injury victim. Kentucky is a "pure comparative fault" state, which means that if you are partially at-fault your recovery will be reduced based on the percentage of fault assigned to you. Even if you are 95 percent at fault, you may still recover compensation but will only receive 5 percent of the value of your actual damages.
Our experienced Kentucky car accident attorneys at Goeing and Goeing, PLLC have handled hundreds of car accident claims throughout Kentucky so we are intimately familiar with the strategies and defenses employed by insurance companies. While the defenses we have outlined above are only a few examples of those employed by insurance providers, we offer an initial free consultation so that we can analyze your case and identify potential issues so call us or contact us at www.kylawpractice.com.