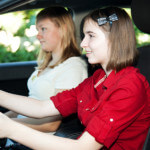 Kentucky has one of the highest teen auto accident fatality rates in the U.S. Although teenage drivers in Kentucky account for only six percent of all licensed drivers, they are involved in eighteen percent of all fatal collisions throughout the state. Graduated driver's license programs have been adopted in Kentucky and throughout the U.S. to reduce collision rates involving inexperience teenage drivers. Teen graduated licensing laws have traditionally been effective tools at reducing the number of accidents caused by inexperienced teen drivers. These programs grant driving privileges in stages while imposing certain restrictions on newly licensed drivers to reduce the risk factors for inexperienced motorists. Despite the historic benefits of graduated driver's license programs, a new trend among teenagers to put off the process of seeking a driver's license threatens to derail these benefits.
Multiple recent statistics and studies suggest that teenagers are no longer rushing to the DMV on their sixteenth birthday as they have done for decades; they are postponing the process of applying for a driver's license. Researchers from the U.S. Department of Transportation and the University of Michigan indicate that the number of 16-year-olds with driver's licenses declined from 44 percent in 1980 to only 28 percent in 2010. These declines were also seen among older teens with 17-year-olds dropping from 66 percent to 45 percent and 18-year-olds dropping from 75 percent to 61 percent. This data is confirmed by a AAA study that found that just over half of all teen drivers have obtained a driver's license by age 18 whereas two-thirds of all teen drivers were licensed by age 18 twenty years ago.
Researchers and public safety advocates indicate that these declines are the result of multiple factors that include tougher driving rules for new teen drivers, increased communication between teens via the Internet, declines in driver education programs offered by high schools and economic hardships associated with paying for driver's education and training requirements.
This trend of new teen driver's delaying obtaining their driver's license has many public safety experts concerned about the potential impact on teen driving accident and fatality rates. The goal of graduated license programs is to gradually grant increased driving privileges while allowing teen drivers to accumulate driving experience. Under the Kentucky graduated license program, there are two specific restrictions imposed on newly licensed teen drivers that receive an Intermediate License. These restrictions include the following:
No driving between midnight and 6 a.m. except in emergencies
Only a single unrelated passenger under the age of twenty may be transported at a time
Because teenage drivers are disproportionately involved in car accidents, the goal is to remove risk factors like nighttime driving and driving distractions while teen drivers accumulate time behind the wheel. Since teenagers are waiting to obtain their driver's licenses, however, the incremental approach of granting driving privileges in stages to inexperienced drivers is being neutralized. This means that teenagers beginning to drive without an adult in the vehicle will be forced to cope with the full spectrum of obstacles that increase teen driving accidents. This is unfortunate because the National Highway Traffic Safety Administration (NHTSA) indicates that graduated driver's license programs decrease crashes involving teen drivers by anywhere between twenty to fifty percent depending on the precise terms of the restrictions imposed.
If you or someone you love has been involved in a Kentucky collision involving a teen driver, our experienced Kentucky auto collision attorneys work diligently to get our clients the compensation they deserve. We encourage you to schedule a FREE consultation our our Winchester or Lexington Kentucky office. We look forward to hearing from you and assisting you with your legal needs!