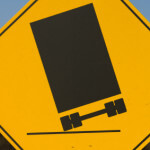 Long-haul trucking is the primary means for getting goods to locations throughout the United States. In this day and age of higher fuel costs, it is economical for trucking companies to load as much product as possible into each truck, with the increased fuel consumption being offset by fewer trucks being needed to get the goods from Point A to Point B. This environment has led to trucks being overloaded in order to maximize capacity making a dangerous situation even more so.
Trucks are heavy, long, and extra high and wide. Driving next to one on the highway is usually intimidating, even when behind the wheel of a hulking SUV. This is because trucks cannot brake quickly, have a difficult time correcting their course quickly, and may become unstable in inclement weather. Add an overloaded trailer to this equation and you have a recipe for disaster. There are a number of factors relating to weight and load that contribute to the probability and severity of a truck accident, including:
Trucks cabs are engineered to haul a heavy load, but there are limits. If that weight limit is exceeded, the truck becomes much harder to control and the likelihood of an accident increases significantly.
If cargo loaded into a trailer is not positioned properly or is not secured, it can lead to cargo falling from the trailer into oncoming traffic. Often, the cargo itself can be dangerous, including toxic chemicals and heavy projectiles.
Improperly secured cargo can shift in the trailer during the haul, leading to imbalance and interfering with the driver's control of the truck. Moreover, the change in equilibrium can cause a rollover accident or a jackknifed tractor trailer.
In order to avoid these threats to vehicles sharing the road with trucks, it is necessary to force trucking companies to implement and enforce policies dictating the method by which trailers are loaded and limits are maintained. In addition, truck drivers need to be trained to recognize when a trailer is overloaded or cargo is not secured properly.
A properly educated truck driver will be able to spot potential problems and react before taking the truck on the road. In order to travel safely, a driver should:
Perform a thorough inspection of his cargo before departure, ensuring that the load is secure and stable;
Take the truck for a test run to be sure that that there is sufficient control and maneuverability. This also permits the driver to see if any of the materials shifted during the short trip.
Inspect the mechanical aspects of the truck, checking brakes, fluid lines, and electrical systems, as well as the tire pressure and tread wear and tear.
Review applicable federal and state trucking rules and regulations to be certain that the load is in compliance with applicable provisions and that all safety standards are being met. The trucking industry is a highly regulated field, so this is a good catchall.
If you have been involved in an accident with a tractor trailer, it is important to retain experienced truck accident attorneys as soon as possible. Investigation into the scene of the accident may reveal evidence of overloading or an unsecured load. Moreover, attorneys will be able to review the driver log books, company records, law enforcement investigation notes and reports, and highway authority records and logs to find proof of the malfeasance.
If you have been the victim of a truck accident, the knowledgeable attorneys at Goeing Goeing and McQuinn PLLC can help you deal with the logistics of getting medical care, rehabilitation, and compensation for the pain and suffering that you have experienced. Dealing with the aftermath of a truck accident is traumatic and we want to take some of the burden off of you.