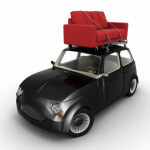 With fall travel season in full swing, many people are packing up their cars and heading out in search of adventures both near and far. This often involves having to bring along some equipment, which makes roof racks a very popular storage method of choice. Specifically, people use rack systems to attach bikes, kayaks, and other outdoor gear to their cars, trucks, and SUVs. They may also use these same roof rack systems haul lumber, plywood and other home improvement necessities. Overall, roof facts are extremely convenient, and if properly used, one of the best ways to transport large items. However, they can also be highly dangerous. For instance, if a bike, kayak, or some other item comes loose from a vehicle's roof rack, it could cause serious injuries and damage to unknowing victims and their vehicles. With this in mind, it is important to consider the following safety tips when using a roof rack:
When using a roof rack, you are responsible for knowing how to install and operate it in a safe manner. This includes knowing how to properly fasten gear onto the racks as well as understanding its size and weight limits, installation techniques, and maintenance requirements.
Driving with items attached to a vehicle with a rack requires care and caution. As such, this means that before leaving for your destination, you must secure your items properly as well as keep it in ideal working order to avoid unnecessary injuries and accidents.
You must be aware of the ways in which gear and other items attached to your vehicle affect its performance and aerodynamics. Excessive speed, strong wind, and fast turns can cause outdoor gear, lumber, or other items on a vehicle's roof rack to break loose and can even cause the driver to swerve or lose control of the vehicle.
While many drivers use their roof racks responsibly, there are others who do not always put safety first. For example, you may have seen a small car with a large floppy mattress attached to its roof. Not only is the mattress probably too heavy to be transported in this manner, the size of it may be impairing the driver's vision if it obstructs the front, side, or rear view from inside of the vehicle. With that being said, never affix oversized objects to the top of your vehicle in a manner that impedes your vision.
People sometimes modify their vehicle racks or use straps, bungee cords, or other fasteners to secure items to the racks in a manner. Taking measures such as these that are inconsistent with your rook rack's instruction manual is extremely dangerous.
Another complicating factor is that sometimes, people use the wrong rack for their vehicle. There are many different types of rack systems on the market, and drivers must be careful to ensure that they choose a rack that will fit their vehicle properly. When in the market for a new roof rack, be sure to purchase one that is made specifically for your vehicle.
For more information, or if you or someone that you love has been injured in an automobile accident, the knowledgeable Kentucky injury lawyers at Goeing Goeing and McQuinn, PLLC can provide you with the aggressive and effective legal representation that you deserve. Don't wait another day to fight for the financial compensation that you need now to cover your expenses.