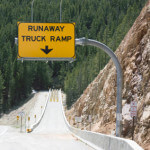 Throughout the United States, trucks are on every major roadway, hauling goods to destinations in each corner of Kentucky. These trucks rely on well-maintained roadways to make their way across the state. When these roads are defective, unmaintained, or poorly designed, accidents may happen.
Truck accidents frequently are the result of negligent drivers, overloaded trailers, or faulty equipment. However, when the roadways are unsafe, it poses a serious danger for trucks and every other vehicle traveling those same roads. Roads that are defective, have structural flaws, or were maintained in a negligent manner pose a danger to everyone.
Improper roadway maintenance is a serious detriment to the safe passage of trucks. Specific hazards include deep potholes, overgrown trees, shrubs, bushes, and other insufficiently manicured vegetation, as well as ineffective removal of snow and insufficient treatment of icy roadways. These dangers can lead to tragic accidents where a truck skids on ice and jackknifes or does not see a merging vehicle because of an obstructed view and collides with a passenger car at a high rate of speed. Long-haul tractor trailers are tremendously heavy, very long, and extremely high. This causes them to be harder to control, much slower to stop, and have an inherently greater risk of inflicting damage when they lose control. If you add road hazards that are man-made or the end product of human error, then the risk increases exponentially.
Roads that have a design flaw create a difficult situation for truckers, impacting maneuverability and visibility. These thoroughfare failings also interfere with a truck driver's ability to see and react to pedestrians and other drivers. Some of these defects include inadequate lighting, misleading or insufficient signage, shoulder lanes that are not sufficient for the size of the trucks passing over the roadway, or which do not exist at all, and degraded materials. Additional threats to the safety of truckers as well as everyone who has to share the roads with them include bridges that are poorly constructed, as well as guardrails, dividers, and medians that are insufficient for the intended purpose.
If a person has been injured by a truck, the reason behind the accident is secondary to dealing with the impact of the accident on his or her life and health. However, one of the critical tools necessary to get proper care and treatment and start the process of getting your life back together is identifying all of the responsible parties and bringing them to the table by naming them in the litigation. When defective or poorly maintained roads are one of the principal causes of the harm, there are challenges because this implicates governmental departments, including federal, state, and local governments, which have primary responsibility for road upkeep and providing safe passage. There are limitations in place when it comes to bringing litigation against a governmental entity, including:
Constitutional protections the create legislative authority over tort claim matters;
Constitutional provisions and statutory regulations that pertain to tort claim actions brought against governmental bodies;
Exceptions to state liability based upon discretionary function exemptions;
Exceptions to state liability based upon misrepresentation;
Prohibitions on the award of punitive damages; and
Limitations on monetary awards (based on per person, per occurrence, and/or per cause of action).
Experienced personal injury attorneys can explain which provisions apply to your case and how they function to limit what actions can be brought against the governmental entity. The skilled and knowledgeable truck accident attorneys at Goeing Goeing and McQuinn PLLC can help you understand the specifics of your case and outline the legal options available to you. Please call us to schedule a free consultation.