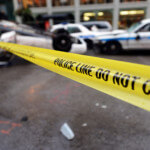 When you are involved in a car accident, the first thing that goes through your mind when the motion stops and the smoke begins to clear is who is injured and how bad are those injuries.
Getting everyone safely out of the wreck and obtaining medical treatment is the paramount concern. Next comes the collection of information: who else was involved, were there witnesses, did the investigators diagram the scene, and what do you remember about the accident.
Finally, steps are taken to begin to restore order - medical care is obtained, insurance claims are filed, vehicles are repaired or replaced, and attorneys may be contacted.
What are the Symptoms of PTSD?
In all the chaos, it is easy to miss the changes in your emotional wellbeing for quite some time.
The aftermath of an accident involves a whirlwind of actions and reactions, but when things begin to settle, you may find yourself facing a new set of challenges. Despite knowing that things are on the right course, you find yourself struggling with anxiety that does not seem to go away. Moreover, you are depressed when you did not experience that before your accident and you cannot shake the pervasive fear that assails you whenever you think about your car accident or consider getting back behind the wheel of your car.
You may find yourself rendered incapable of functioning in the middle of performing an everyday activity. If these situations sound familiar, you might be suffering from post-traumatic stress disorder (PTSD). Women who experience a high impact stress are more likely to develop this condition than men.
What is PTSD?
Research into PTSD is ongoing. However, brain science does provide some answers to why an accident victim may develop PTSD symptoms. Extremely stressful events, either long-term continual stress, like that suffered by prisoners of war, or acute incidents such as a car accident, a physical attack, or an explosion, can cause a chemical response in the brain. This episode may involve the sudden release of adrenaline, cortisol, or other neurochemicals in a cascade reaction that has the potential to alter the way in which the brain interprets signals and information on an ongoing basis. There even is the potential for the chemical event to cause a restructuring of the brain.
Although the mechanisms for the neurochemical reaction and the impact on the body are not fully understood, what is known is that someone with PTSD requires extensive therapy and medical care to deal with the consequences of the neurological trauma. Some of the symptoms of PTSD include:
Regularly re-experiencing the traumatic event through nightmares, flashbacks, or dissociative reliving of the event;
Being quick to experience anger or irritability;
Extreme difficulty sleeping;
Trouble concentrating;
Pervasive fear about safety and constant vigilance;
Intense startle reaction;
Loss of interest in previously enjoyed activities;
Emotional withdrawal or numbness;
Loss of memory about the event or an inability to talk about it;
Experiencing despair or hopelessness;
Inability to control emotions; and
Exhibiting self-destructive behavior.
Treatment for PTSD may involve psychotherapy, also known as talk therapy, and/or drugs. Getting the appropriate care from a medical provider who is experienced in the treatment of PTSD is critical, following a car accident.
If you have been involved in a car accident and are experiencing symptoms of PTSD it is critical to get the treatment that you need as soon as possible. We can meet you in our conveniently located office at 300 East Main St. Lexington, Kentucky. Finding and retaining experienced personal injury attorneys like those at Goeing Goeing and McQuinn PLLC is crucial to be able to obtain a legal recovery that will cover all of your medical expenses and provide compensation for pain and suffering.