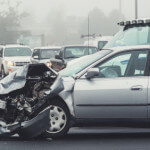 No matter what, no two car accidents are ever the same. Notwithstanding, many similar factors are considered when examining the cause of a Kentucky automobile accident. For instance, it must be determined how fast the drivers were going, what the weather conditions were like at the time of the accident and the scope of the damages sustained. The testimony of witnesses, police reports and other pieces of evidence can assist Kentucky car accident attorneys in rendering these types of determinations. In the past few years however, the ever increasing use of the internet has influenced Kentucky courts to rely upon additional sources of evidence in car accident cases. These include text messages, emails and most notably, blog posts on Facebook.
After being involved in an automobile accident, it is certainly tempting to post pictures of the crash or vent on Facebook to loved ones about what happened. While it is understandable why people do this, things you post online can be easily taken out of context, misinterpreted and used against you by insurance companies and defense attorneys. In fact, Facebook is one of the main places that these entities visit in order to try and deny coverage or mount defense strategies against you. Therefore, it is highly recommended that you consider the following if you have been in a Kentucky automobile accident:
Plead the Fifth. In other words, don't post anything on Facebook that can incriminate you. Statements posted online regarding the cause of your accident can and will most likely be used against you. That is why it is highly recommended that you remain silent on Facebook and any other social networking site, especially when you may have had a role in contributing to your accident.
Update your security settings. Facebook and other social networking sites allow users to restrict who has access to their personal profile page. You can also block users and deny requests from "friends" who you do not know. Insurance agents have been known to "friend" accident victims online in order to gain access to their respective sites.
Don't overexpose yourself. Facebook can be a great place to upload photos of yourself with friends or family while on vacation or doing other types of recreational activities. However, if you were injured in a car accident, you do not want to post pictures of yourself or allow others to do so that show you walking around or engaging in athletic activities. If you claim to be injured yet have these types of photos posted online, they can be used against you. Make sure to disable the ability of your Facebook friends from tagging you in photographs, at least until your car accident case is finalized.
Do not discuss anything about your accident online. Be sure not to discuss anything about your accident on Facebook or other social networking sites. Whatever you say, as mentioned above, can be used against you. That is why you should never talk about your accident or say anything about what may have caused or contributed to it. Even harmless statements can be taken out of context. As such, do not take unnecessary risks in this regard.
If you or someone you love has been injured in an automobile accident, the knowledgeable Kentucky car accident attorneys at Goeing Goeing and McQuinn, PLLC will provide you with the aggressive and effective legal representation that you deserve. Contact us today for a FREE consultation. We look forward to hearing from you.