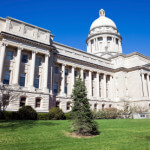 This week's Kentucky Supreme Court civil cases deal with trustee fees after the repeal of KRS 386.610, choice of law in a UIM case and whether or not a contract was agreed upon or merely an agreement to agree in the future.
KATHERINE COMBS JARVIS AND HUGH J. CAPERTON APPELLANTS
ON REVIEW FROM COURT OF APPEALS
V. CASE NO. 2009-CA-002258-MR
JEFFERSON CIRCUIT COURT NO. 08-CI-013731
NATIONAL CITY AND PNC BANK NATIONAL ASSOCIATION APPELLEES
Topics: Trustee Fee after Repeal KRS 386.610, Trusts and Estates
KRS 386.610 placed a statutory cap on the allowable compensation for trustees of a testamentary trust. KRS 386.610 was repealed in 2008. The question in this case is whether or not trusts created prior to the 2008 repeal must continue to abide by KRS 386.610 going forward. The Supreme Court of Kentucky determined that trustee's going forward after the 2008 appeal may collect a reasonable compensation and are not hindered by KRS 386.610.
The repeal of KRS 386.180 allows trustees to collect reasonable compensation for their services going forward.
STATE FARM MUTUAL AUTOMOBILE APPELLANT
INSURANCE COMPANY
ON REVIEW FROM COURT OF APPEALS
V. CASE NO. 2010-CA-000603-MR
ROCKCASTLE CIRCUIT COURT NO. 08-CI-00169
KAREN HODGKISS-WARRICK APPELLEE
Topics: Choice of Law, Motor Vehicle Accident, UIM,
This Case involves a passenger who is a resident of Pennsylvania and was in an accident in Kentucky and has brought suit against he UIM carrier. First the Kentucky Supreme Court determines Pennsylvania Law governs the UIM contract. Second, there no Kentucky public policy that would act as a prohibition against the enforcement of the exclusion of coverage for vehicle being driven by a "resident relative" and therefore Kentucky Law does not override Pennsylvania Law in this case.
Pennsylvania law governs this contract dispute and the Court of Appeals erred when it declined, on perceived public policy grounds, to apply that state's law. The regular use provision applicable to Hodgkiss-Warrick's UIM coverage is enforceable and State Farm properly denied UIM benefits to her.
CENTRAL BANK APPELLANT
ON REVIEW FROM COURT OF APPEALS
V. CASE NO. 2009-CA-001126-MR
JEFFERSON CIRCUIT COURT NO. 07-CI-011677
SUTEJ GILL, DEBORAH GILL,
JAMES DANIEL JONES,
WASHINGTON MUTUAL BANK,
AMERICAN TAX FUNDING, AND
LOUISVILLE-JEFFERSON COUNTY
METRO GOVERNMENT
APPELLEES
UNPUBLISHED OPINION
Topics: Foreclosure, Meeting of the Minds, Contract, Agreement to Agree
The Gills wanted to acquire the Bank's first priority position by purchasing a mortgage. The initial closing on that transaction fell through. The Bank filed for judgment and sale. The Gills and the bank again negotiated and allegedly reached an oral agreement which was recorded by the Master Commissioner with the note that the parties intended to reduce the agreement to writing. The Bank submitted its written understanding of the agreement which the Gills objected to the based on the indemnification clause. The trial court found there was not a meeting of the minds on the agreement. The Court of Appeals reversed indicating the oral recorded agreement was enforceable. The Supreme Court overruled the Court of Appeals determining the oral agreement was merely an agreement to agree in the future. It would be interesting to listen to the recording of the conversation in this case.
It objectively appears that both parties were agreeing to settle, although not all of the material terms of contract had been discussed. Therefore, in light of the specific set of facts and circumstances before this Court, we find that the parties entered into a preliminary settlement agreement which failed to incorporate the complete material terms of the contract. As our predecessor Court expressly stated: "An agreement to agree cannot constitute a binding contract." Walker v. Keith, 382 S.W.2d 198 (Ky. 1964) (citing Williston on Contracts (3rd ed.) Vol. 1, Section 45 (page 149); Johnson v. Lowery, 270 S.W.2d 943 (Ky. 1954); National Bank of Kentucky v. Louisville Trust Co., 67 F.2d 97 (6th Cir. 1933)). Consequently, we agree with the trial court that there was no manifestation of mutual assent.