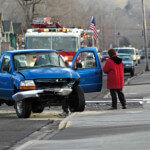 Each year, numerous people located in busy cities across the United States sustain severe injuries after being involved in car, truck, motorcycle and other vehicle accidents. In Kentucky alone, thousands of people are injured on a yearly basis in life threatening traffic accidents. At our Lexington Kentucky office we frequently see clients injured in accidents. A significant percentage of these individuals unfortunately suffered what are commonly known as catastrophic injuries. A "catastrophic injury" refers to a sudden and traumatic injury that has devastating consequences for its victims, such as:
Being unable to work
The inability to complete basic chores and tasks
Limited mobility
Chronic pain
Endless medical bills and related expenses
Emotional trauma, such as anxiety, depression and post-traumatic stress disorder
Financial distress, such as bankruptcy
In Kentucky, catastrophic injuries are typically caused by the carelessness or recklessness of other drivers, whether due to speeding, driving while intoxicated or driving while distracted. There are a wide variety of catastrophic injuries that people face when being involved in traffic accidents in Kentucky. The most common forms are:
Neck, shoulder and back injuries
Damage to the spinal cord
Traumatic brain injury
Skull fractures
Concussions
Compound and surface fractures
Third degree burns
Severe internal bleeding
Organ damage and failure
Partial or complete paralysis
Sudden/untimely death
For those who struggle with these types of tragic and debilitating injuries, there is a significant amount of confusion and uncertainty as to the quality of their life both now, and in the future. Meaning, individuals who have been severely injured do not know whether they will ever be able to walk again, drive a car, or even perform menial tasks such as walking the dog or tending to one's garden. While victims bear the biggest burden when dealing with catastrophic injuries, family and friends also suffer as well.
Despite the fact that every type of injury is different, there are similarities among all forms of catastrophic injuries. To illustrate, most if not all catastrophic injuries are challenging to treat, often involve long recovery periods and painful rehabilitation, create significant emotional trauma, and can be complex to prove. That is why it is crucial to have an experienced Kentucky car accident attorney on your side to help you recover the compensation you deserve for your injuries. Only a skilled attorney has the knowledge and experience necessary to make a difference in your case and to vigorously fight for your rights, every step of the way.
For additional information on the above, or if you or someone that you love has been injured in a catastrophic accident, the knowledgeable Kentucky personal injury lawyers at Goeing Goeing and McQuinn, PLLC can provide you with the aggressive and effective legal representation that you deserve. Don't wait another day to fight for the financial compensation that you need now to cover your expenses.