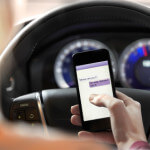 It is unbelievable the things that some people do while driving. Unfortunately, distracted drivers on Kentucky roads place everyone at risk due to their unsafe habits when behind the wheel. In fact, distracted drivers cause thousands of unnecessary car accidents in Kentucky, despite legislative efforts such as its "distracted driving" laws that ban texting while driving. Accordingly, the following are some examples of the things that distract Kentucky drivers from their primary responsibility - safe driving:
Car radios used to be relatively simple to operate. Even then, the occasional accident was caused by drivers who were changing channels or otherwise making adjustments to its various knobs and buttons. However, today's car radios - being much more technologically advanced - can cause even greater distraction. With large, colorful screens and a myriad of controls and inputs from iPods and other devices, they can often resemble computers. It is no surprise that Kentucky drivers are distracted by their car radios more now than ever before.
DVD players can certain make family road trips a lot more pleasant, but they can also cause significant driver distraction. The same goes for GPS systems - nowadays, getting to your destination may be a lot easier however, accidents are more likely to happen when a person is paying more attention to their GPS system than on the road.
Pets are another common cause of driver distraction in Kentucky. If you must drive with your pet, it is important that they are secured by a harness or carrier so that they do not interfere with your driving.
Styling hair and putting on makeup are other common things that Kentucky drivers do that can dramatically distract them while driving. As crazy as it sounds, some people even tweeze their eyebrows or shave while driving! Avoid these habits, as they can lead to serious and sometimes fatal accidents.
The list of things that Kentucky drivers do while driving is longer than you may think. You just may find yourself sitting at a red light next to someone who is reading a book or newspaper, brushing their teeth, or even knitting.
An additional source of distraction for Kentucky drivers is their children. Be sure to speak with your kids about how being a safe passenger is extremely important. Many times, accidents are caused by a driver who is trying to resolve a fight between their kids, which required them to take their eyes off the road. Overall, teaching your children proper "passenger manners" is crucial, and will keep you, them and others safe.
If you or a family member has been injured as a result of a Kentucky distracted driving accident, the knowledgeable Kentucky injury lawyers at Goeing Goeing and McQuinn, PLLC can provide you with the aggressive and effective representation that you deserve. We understand that victims of motor vehicle accidents suffer both personally and financially, and we have a proven track record of success in obtaining results that help our clients to rebuild their lives following devastating Kentucky distracted driving accidents. For more information on our legal services, call us today to schedule your initial consultation at our Car Accident Law Offices, or feel free to contact us through our website.