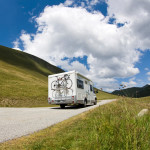 Recreational vehicles (RVs) are a great way to get the family together and travel the back roads and beautiful countryside. Kentucky offers so many destinations to visit, from the verdant rolling hills to the thrills of Churchill Downs or the Kentucky Horse Park. When individuals and families take to the road, they need to be aware of some of the problems that can lead to trouble.
RVs generally are a safe means of travel, but driver error, mechanical defects, or improper maintenance can lead to serious accidents with devastating consequences. Here are some of the most common causes of accidents involving RVs and some suggestions to keep the trip a pleasant one:
Operator Error - RVs are large vehicles with significant height, weight, and length. Often, drivers undertake the commitment of driving an RV with caution, but if a driver fails to adhere to traffic rules by speeding, passing in an unsafe manner, refusing to yield the right of way, or in some other manner, the consequences can be deadly. An RV does not stop quickly, swerve easily, or respond like a car in response to road danger, so a driver will not be able to avoid an accident effectively if he creates a perilous situation.
Road Hazards - Many roads present unique challenges to RVs because of sharp turns and uneven surfaces, leading to loss of control and accidents. Exercise caution and keep the speed at or below the posted limit to minimize the impact of these hazards.
Weather Conditions - Adding wet roads, heavy winds, or icy surfaces to the mix always can have an adverse impact on drivers. The less maneuverable RVs are particularly susceptible to inclement weather, so a driver should be aware of what the day will bring and be prepared to stop a little early.
Distracted Driving - Anything that takes your focus away from the road is going to increase the risk of an accident, which includes deciding to skip the restaurant and instead eating behind the wheel. You are taking an RV trip to enjoy the journey, take the extra time to sit down to eat and plan your route before turning on the engine.
Impaired Driving - Consuming any alcohol or drugs before trying to navigate an RV is a recipe for disaster due to the requisite skill and focus it takes to drive an RV. An RV is a portable home, so park it somewhere safe before indulging in any intoxicating substances.
Vehicle Issues - There are many things that can go wrong in an RV and lead to serious problems with terrible costs, including:

Faulty Brakes - The sheer size and weight of an RV requires a fully functioning braking system in order to stop effectively. There are many different factory or manufacturing recalls on brakes in RVs each year. If the brakes are not good, then there will be dangerous issues the first time a hard stop is required. It also is important to make certain that the brakes are rated sufficient for any additional towing, such as a vehicle, that might occur.
Worn Tires - Tires with insufficient tread, or which are defective, may lead to a blow-out on the road while traveling at a high rate of speed. In addition, the tires may not be proper for the type and weight of the RV. It is important to ensure that your tires are in good shape and up to the task before heading out onto the road.
Electrical Systems - RVs are extensively wired to supply light, heat, hot water, refrigeration, and cooking surfaces. Therefore, there are many sources of problems, including electrical fires. A system diagnostic and search for open recalls will avoid many of the potential perils.
Propane Appliances - RV's utilize propane to operate many of the appliances such as the stove, refrigerator and other items. It is critical that the gas lines and connections be inspected regularly. Also a functioning propane gas detector can shut off the system if a propane leak is detected and potentially prevent a propane explosion.
The open road proves an irresistible lure to many people. In order to avoid many of the problems discussed above, complete a thorough check of the RV before departing on your adventure. Exercising basic common sense will help you have a safe and enjoyable trip.
If you or a loved one has been harmed in an RV accident, the experienced attorneys at Goeing Goeing and McQuinn can help you get the recovery to which you may be entitled. Please call us or complete our online contact form to set up a free consultation.