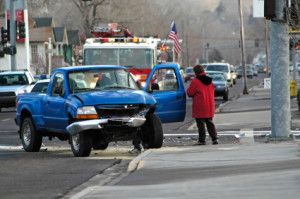 It seems like no matter what time of day you are out on the road, traffic is inevitable. Whether you use busy roads to commute to work or you experience congested streets in your local area when the school day begins and ends, you are likely to share the road with many other drivers at least a few times each week. It is not surprising that many car accidents occur on crowded roads. If you are involved in an accident in an area where there is a lot of traffic, you may also be at risk for experiencing additional injuries or damage if a chain-reaction or pile-up accident occurs as other vehicles become entangled in the existing wreck.
How Chain Reaction Accidents Happen
Busy roads are just one factor which can contribute to a chain reaction accident. Pile-ups often happen when snow, ice, or rain cause slippery road conditions because people can have difficulty maintaining control of their vehicles as they try to navigate the area around an accident. Poor visibility also contributes to many chain reaction accidents, because when drivers cannot see an accident in the roadway until they are very close to it, they have little time to maneuver around it safely.
In addition to road conditions, driver errors also contribute to many chain reaction accidents. When drivers do not adjust their driving habits to the weather and the road conditions that are present, there is an increased likelihood they will either have an accident, or be unable to avoid becoming entangled in an accident which is already in the roadway. Failing to maintain an appropriate following distance also increases the likelihood that a driver will be involved in a chain reaction accident. If you are following too closely and the car in front of you swerves or stops short to avoid colliding with vehicles that are already in the roadway because of a car wreck, it is very likely that you will be unable to stop in time to avoid hitting that car or the other vehicles that are in the road.
What to do After a Chain Reaction Accident
Unfortunately, while knowing the causes of chain reaction car accidents can decrease the likelihood that you will get caught up in one, it cannot completely eliminate that risk. If you have been injured in a chain reaction accident, be sure to seek medical attention right away, even if you do not feel hurt. Some injuries are unable to be detected by accident victims immediately following their accidents, but medical professionals can often identify such injuries and begin treating them immediately so as to increase the accident victims' chances of recovery.
Goeing Goeing McQuinn PLLC: Helping Chain Reaction Accident Victims throughout Kentucky
Chain reaction accidents can be even more deadly and destructive than accidents involving one or two vehicles. If you have been injured or someone that you love has been killed as the result of a chain reaction accident, ourLexington, Ky car accident attorneys can help you to pursue a settlement that will compensate you for your injuries or loss. The personal injury attorneys at Goeing Goeing and McQuinn PLLC would like to offer you a free consultation so please call us today at 1 (888) 595-2943 or visit our website to learn more.