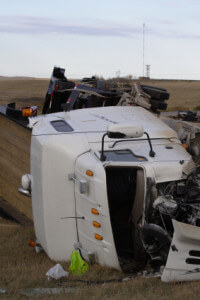 Most drivers have seen the aftermath of a tractor trailer rollover accident at one time or another, whether on the road, on the news, or depicted in a photograph in a newspaper or online article. Those of us who don't drive tractor trailers often wonder why tractor trailers roll over in the first place. Keep reading to learn more.
How Truck Design Contributes to Rollover Accidents
It is true that rollover accidents involving passenger vehicles occur, and that some passenger vehicle rollover accidents are caused by things which can cause tractor trailer rollover accidents, such as a failure to slow down while navigating a curve in the road. However, the size and shape of tractor trailers makes them particularly vulnerable to this type of crash. Tractor trailers have a high center of gravity, so as a tractor trailer goes through a curve, it leans to one side. If the trailer part of a tractor trailer unit leans too far to one side, it can tip over.
The load that a tractor trailer is pulling can increase the risk of a rollover accident. For example, a tanker truck may roll over when the liquid load in the tank has enough room to slosh from side to side. Similarly, loads of any type which are not secured properly can shift while in transit, and the movement of the weight of the load can cause the truck to roll over.
Truck Drivers Also Contribute to Rollover Accidents
Some rollover accidents occur when the driver of a truck fails to slow down as they pass through a curve in the road or as they navigate an on-ramp or an off-ramp. Other tractor trailer rollovers happen when a distracted or tired trucker suddenly jerks the steering wheel as they snap to attention. This type of quick change in direction is not something that tractor trailers are designed be able to do, and the truck can lurch from side to side, sometimes with enough momentum to tip over.
Truck drivers are less likely to roll over when they place loads on their own trucks. Loading a truck helps the driver get acquainted with the load, which in turn prepares them for how their truck is likely to handle when they are behind the wheel. Unfortunately, some drivers don't get to load their trucks because the trailers are loaded by other workers before the drivers pick them up.
Goeing and McQuinn PLLC: Helping Rollover Accident Victims throughout Kentucky
When a tractor trailer rolls over, there is likely to be a great deal of damage to the truck and to any nearby vehicles. Unfortunately, there may also be one or more fatalities and/or serious injuries. Accident victims and their families can pursue compensation for their damages or losses by enlisting the aid of a Lexington Ky Car Accident Attorney. The Kentucky Personal Injury Attorneys at Goeing Goeing and McQuinn PLLC have helped many families to recover from the devastating effects of motor vehicle accidents, and they are here to help you. Call us for a free consultation, at 1 (888) 595-2943, or visit our website to learn more.