Motorcycle Accidents In Kentucky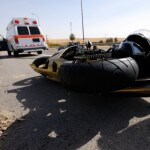 Kentucky has incredibly scenic roads and interstates for motorcycle riders. Many Kentucky roadways travel along lakes, mountains, and the beautiful bluegrass region. These incredible views grab the attention of motorcycle riders and drivers of cars and trucks. As a result, there less attention is given to the roadway by drivers and numerous motorcycle, moped, and scooter accidents result.
Defects in driving surfaces, such as potholes, oil spots, and changes in pavement conditions, also contribute to many motorcycle accidents. The lower level of stability on motorcycles, scooters, and mopeds makes recovery from a disruption in the roadway very difficult to recover from. The extra weight of a motorcycle passenger further increases instability. Equipment failures such as flat tires are much more serious on a motorcycle and are more likely to result in a crash.
In Kentucky, motorcycle riders can legally ride without a helmet. A helmet provides motorcycle riders with one of the only forms of protection when involved in a motorcycle crash.
Consult a Kentucky Motorcycle Accident Attorney
Because of the lack of protection offered by motorcycles, mopeds, and scooters, many motorcycle accidents end in a fatality. The reduced size of motorcycles make them more difficult for drivers of automobiles to see them when distracted or otherwise driving with reduced visibility. Fatal motorcycle accidents have steadily increased over the past decade.
If you or a loved one has been injured or killed in a motorcycle accident due to the fault of another person you should consult one of our Kentucky Motorcycle attorneys now in order to protect your ability to seek compensation. Our Kentucky Motorcycle Lawyers are happy to provide a free consultation to individuals or family members of individuals injured in a motorcycle accident.
Posted By
Goeing Goeing & McQuinn PLLC
Categories: